How IVR Technologies Empowers Service Providers with Next Generation Converged Mobile and VoIP Network Solution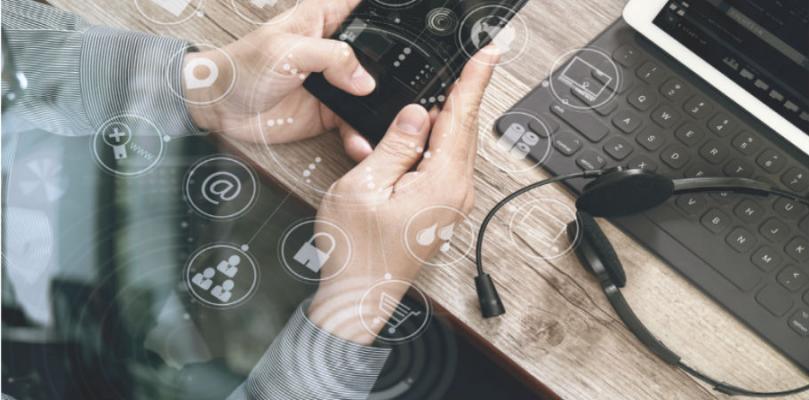 In today's highly competitive telecommunication landscape, leveraging Voice over Internet Protocol (VoIP) and mobile devices has become a necessity for many businesses as these solutions promote better communication and help support more flexible working practices for globally distributed workers. While businesses can see the immediate benefits of mobile communications tools in the workplace, the managing and monitoring of mobile communications systems and voice and data traffic across devices and networks can be difficult. This is one of the biggest challenges that today's modern, dynamic businesses face as digital technologies become ubiquitous. So how can mobile carriers and operators help businesses solve this problem and further optimize mobile communications for their subscribers?
In this article, Barry Sher, the Co-founder and VP of Business Development at IVR Technologies, discusses the benefits of mobile and VoIP convergence and shares with Voip-Info how their Talking SIP Mobility can help mobile carriers and operators to overcome business communication challenges and provide better service to their customer base.
The Power of Convergence
In order to attract and retain customers and increase business profitability, service providers and mobile operators need to invest in a comprehensive network solution that can seamlessly converge mobile services with a VoIP network. Through convergence, mobile operators can help their subscribers promote better communication while opening the way for advanced network applications that enable them to have more agile and productive business.
As one of the latest advancements in mobile technology, convergence allows operators to unify all customer-related processes (e.g. sales, billing, marketing, activation and provisioning, and customer care). This solution also enables mobile carriers and their subscribers to take advantage of the benefits of next-generation VoIP session initiation protocol (SIP) network while having it seamlessly integrated into the mobile network. "When you enable the mobile core network with VoIP, you create the ability to steer call legs to VoIP to dramatically reduce costs, improve redundancy, enhance existing subscriber services, and create the opportunity to introduce new competitive and differentiating services," said Sher. "A good example of this is for international calls where terminating the B-leg of the call over the traditional mobile network can far exceed the cost of terminating traffic via VoIP."
Through mobile/ VoIP convergence, network operators are empowered to rate and bill subscribers differently based on the call route taken, which helps to improve competitive advantage and boost profitability. "VoIP/Mobile convergence integrates the ubiquity and convenience of the mobile network with the efficiency, redundancy, and cost-savings of the next-generation VoIP network," explained Sher. "This integration provides subscribers with unified telecom services and account billing regardless of the access method and/or the type of service being consumed."
Business Benefits of Mobile and VoIP Convergence
Aside from convenience and cost-savings, Sher identifies a number of key advantages of mobile/VoIP convergence:
Empowers mobile subscribers and operators. Mobile/VoIP convergence provides enhanced subscriber and operator capabilities for how, where, and when their calls are delivered, allowing for International Mobile Subscriber Identity (IMSI) profile selection based on roaming location and the unification of messages and account billing. "It [convergence] also extends to the web where subscribers are empowered to self-manage their services, account billing, top-up, find me/follow me scheduling, routing, and message delivery; all of which drives subscriber loyalty and reduces churn for the operator," said Sher. Additionally, by off-loading subscriber account management to the web, convergence significantly reduces the impact to the operator's customer service team and improves the subscriber experience through additional control and convenience.
Promotes efficient network utilization. Convergence offers the ability to utilize the most efficient call leg for inbound and/or outbound routing. This allows IMSI profile selection for lowest cost roaming and offers subscriber self-management for lower network operating costs. Plus, mobile/VoIP convergence drives new services and capabilities such as using mobile phones as seamless PBX extensions, providing WiFi calling capabilities, bundling services to a common subscriber account, and introducing find me/follow me scheduling.
Building the Next-Generation Converged Mobile and VoIP Networks with IVR Technologies
As a leading provider of next-generation mobile and VOIP enhanced services and real-time billing platform, IVR Technologies is committed to delivering technology solutions that promote better service and boost business performance.
"We [IVR Technologies] are industry leaders in real-time billing and value-added services solutions with over 23 years of experience and a global base of tier 1, 2, and 3 level operators," said Sher. "We offer CAPEX and OPEX deployment models and in-house financing to help facilitate deployment of the Talking SIP Mobility platform, which offers one of the most cost competitive and feature rich solutions in the industry."
Designed for the Mobile Virtual Network Aggregator (MVNA), Mobile Virtual Network Enabler (MVNE), Mobile Virtual Network Operator (MVNO), and Machine to Machine (M2M) alike, IVR Technologies' Talking SIP Mobility solution provides secure multi-tenancy provisioning to facilitate hosting an unlimited number of MVNOs each with its own branded subscriber web portal and partitioned MVNE/MVNO GUI management console. This mobile network solution delivers class 5 value-added services that are ideally suited for next-generation communication service providers who wish to offer domestic MVNO, global roaming and multi-IMSI voice, data, and SMS services on a prepaid, postpaid and/or credit limited basis.
Through the Talking SIP Mobility platform, IVR Technologies provides an unmatched level of signaling, billing, and services convergence with flexible solution delivery models and a consolidated network architecture that all culminates into a rapid return on investment.
Helping Operators to Fully Embrace the Power of Convergence with Talking SIP Mobility
"We see operators working harder than ever to stay connected with their subscribers whether they are local, roaming, on network, and/or off network," said Sher. "Providing compelling roaming services when traveling for business or pleasure while delivering rich content and offering attractive international calling plans are just some of the ways operators are addressing their subscribers' needs and differentiating themselves in the market."
In keeping with the company's goal to help operators leverage the full power of convergence and empower the mobile subscribers in the process, IVR Technologies has developed the Talking SIP Mobility solution. "By continuing to listen to our customers we have developed and continue to enhance a very robust platform that leads in VoIP/Mobile convergence with a level of openness and extensibility that is only limited by our customers' imagination," said Sher.
As a turnkey solution, the Talking SIP Mobility enables operators and their MVNE/MVNO mobile services to be tightly coupled with SIP for seamless VoIP convergence. "As a convergent billing and value-added services platform, Talking SIP Mobility bridges the mobile network with SIP so that calls can be automatically routed on/off the mobile network via VoIP for more cost-effective call origination and/or termination routing," explained Sher.
Operators deploying the Talking SIP Mobility solution have the power to deliver value-added services to their enterprise customers. Popular enterprise services include auto-attendant/PBX services tied to IP phones, softphones, and mobile handsets; call center services with flexible agent routing, crew and welfare services to remote locations; and conferencing services for distance learning all coupled with flexible corporate level billing on a prepaid, postpaid and/or credit limited basis.