Convergence – What Operators Should Consider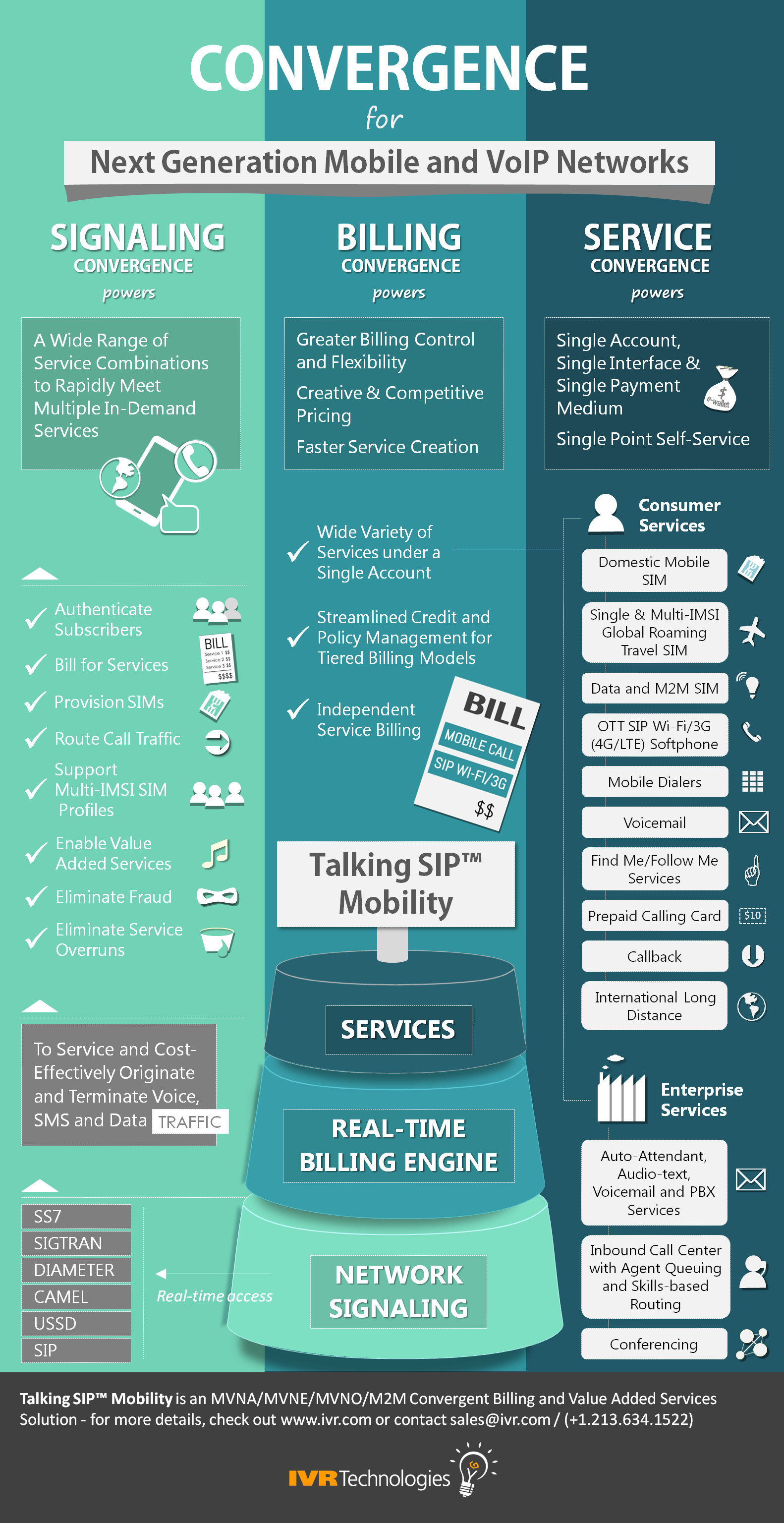 Convergence comes in many forms, and there are several functions that operators need to consider when creating or upgrading their networks. Today's mobile and VoIP networks consist of disparate systems, most of which do not integrate at the back-end and usually have some elements based on post and/or real-time processing. Consider an MVNO that relies on network APIs for post CDR processing and who does not have access to network signaling or a VoIP operator that cannot communicate directly with the mobile core network in order to converge their service offerings. While each type of operator can stand on their own, they often fail to converge signaling, billing, and services, which can lead to a host of business and technical issues and impose significant commercial limitations.
The ideal converged services platform enables the operator to achieve the following:
Signaling Convergence Real-time access to network signaling is a major benefit to the successful operation of a next-generation mobile and VoIP network. A converged services platform that supports SIGTRAN, DIAMETER, CAMEL, USSD and SIP allows the operator to service and cost-effectively originate and terminate voice, data and SMS traffic across devices on both home or host networks. Real-time signaling provides the operator with the ability to authenticate subscribers, bill for services, provision SIMs, route call traffic, support multi-IMSI SIM profiles, and enable value- added services while insulating themselves from potential fraud and subscriber service overruns. With the ability to mix and match signaling regardless of the call type, the operator gains a competitive edge through the ability to generate revenue from many types of in-demand subscriber services whether it be voice, data, SMS or any combination thereof.
Billing Convergence A converged services platform that includes a tightly coupled real-time billing engine along with real-time network signaling provides the operator with greater flexibility and control in how they bill for services. Real-time billing can be unified to provide a variety of different services for a single subscriber account, as well as enabling streamlined credit and policy management for tiered billing models (e.g., wholesaler/reseller/retail models). When billing convergence is achieved, each consumed service can be billed independently from the other. For example, a mobile call can be billed differently from a SIP Wi-Fi/3G call; an on-net call can be billed differently from an off-net call; data originating over one partner carrier's network can be billed differently from another partner; and USSD callback requests can be billed differently from ones originating via SMS. Without convergence operators are limited in their ability to be creative and competitive in the pricing of their services, and if they are limited to post CDR processing it becomes even more difficult and labor intensive to manage their billing operations consistently and predictably across the network. Perhaps most importantly, converged billing simplifies the creation and addition of new services to existing subscribers which results in enhanced profitability and improved competitive advantage.
Service Convergence Today most operators are competing on price, which is a race to the bottom. In this pricing model every operator loses – while they may gain subscribers in the short term, reaching break-even, or even profitability using razor-thin margins is risky and highly elusive. So how does an operator gain subscribers, reduce churn, build margins and make money? The answer is convergence.
Through convergence the operator can provide a suite of services that are all tied and billed to a single subscriber account that can be self-managed from a single web portal, using a single e-wallet, and marketed to both the consumer and the enterprise alike. The following are some of the consumer and enterprise services that can be considered to build subscriber loyalty and capture the greatest market share:
Consumer Services
Enterprise Services
Enabling a mobile and VoIP network with convergence provides the operator with the highest opportunity for success across multiple revenue centers by driving long-term subscriber loyalty. From the subscribers' perspective, they want to be able to go to a single source to have their telecom needs met, where they can manage their services from a single portal and make payment from a single credit card -- this drives subscriber traction, ARPU and loyalty.
When the operator ties in enterprise applications they can now service consumers and businesses from a single platform, from a single account and with real-time billing and reporting -- this reduces network operational complexity, CAPEX, and OPEX.