North American operator CAPEX to hit $200B through 2020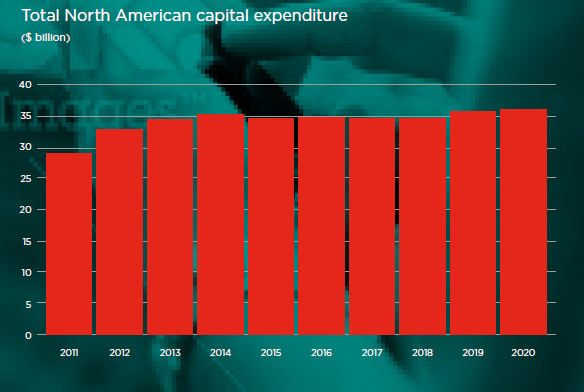 Operators across North America will continue to boost capital expenditure through to 2020, despite years of rapid 4G infrastructure rollout, as they now look to "densify" their networks to support strong growth in data traffic, according to a new GSMA report.
The report, Mobile Economy – North America 2015, showed total North American capex has hit nearly $35 billion per year since 2012, accounting for just over 14 per cent of revenues for operators, with the rapid rollout of 4G "proving a key driver of these investment levels".
According to forecasts, total capex in the region through to 2020 is set to hit $200 billion, as the industry looks to 'densify' networks by deploying small cells and distributed antennae, particularly in congested urban areas.
"Overall, capex for North America over the period is likely to grow slowly, slightly below the rate of revenue growth, at an annual average rate of 0.5 per cent per year between 2014 and 2020," notes the report.
4G to dominate connections base As one of the world's earliest adopters of 4G, GSMA said LTE networks in North America will account for more than 80 per cent of total connections by 2020. 4G today accounts for just over half of the connections base in the region, and already provides 98 per cent population coverage in the US, and 92 per cent in Canada.
To that end, resulting mobile data traffic is forecast to grow at a 42 per cent compound annual growth rate to 2019, to nearly 11GB per user per month, significantly higher than a global average rate of 24 per cent and predicted 2019 usage levels of just 4GB for the same period.
The report also highlighted the importance of the upcoming US incentive auction, scheduled for March next year, to address the continued growth in US data traffic.
The process, which will see the auction of 600MHz spectrum, is described as "complicated but vital" by the trade association, as it will also see the involvement of the country's television broadcasters.
To read the entire article please click here: Source: Mobile World Live